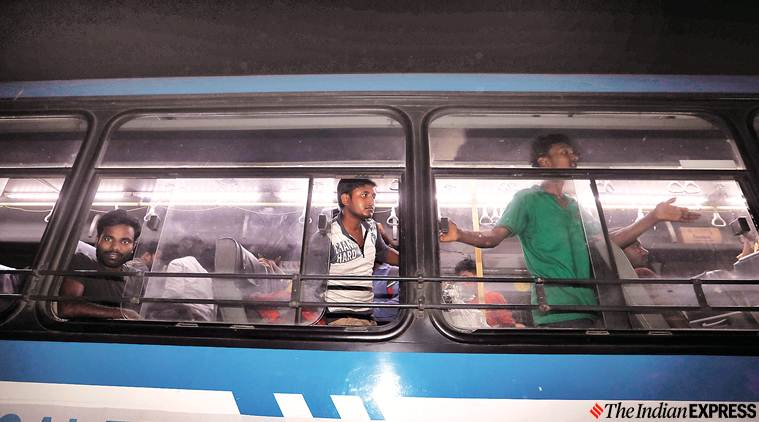 As over 130 labourers from Bengal returned from Kashmir here on Monday evening accompanied by government officials and a small police team, there was only question on their mind: "What will I do now? How will I earn?"
The uncertainty of job loomed over them as some even came empty-handed after being denied wage payment by those for whom they worked in Kashmir.
"I am a landless labourer," said 59-year-old Lutfur Sheikh, a resident of Kaliachak in Malda district. At this age even, I have to do a lot of manual work to earn money. I went to Kashmir to earn some money but failed. What will do now? All the money I had has gone. Now if the government does for us, we will be grateful."
Also Read | Kolkata: TMC slams Centre for 'faulty policy on Kashmir', BJP says it's about jobs
Among the 138 labourers, who returned from Kashmir on Jammu-Kolkata Express on Monday, five were from neighbouring Assam while the rest from West Bengal. The Trinamool Congress government of West Bengal had decided to bring all the labourers from the state working in Kashmir in the wake of the killing of five Bengali labourers in Kulgam in Kashmir on October 29.
Also Read | Bengal labourers killed in Valley: TMC asks why PM Modi, Shah silent
"They were accompanied by two government officials and nine police officers and a small team of police personnel from Jammu," Disaster Management Officer Sanjib Chaki said.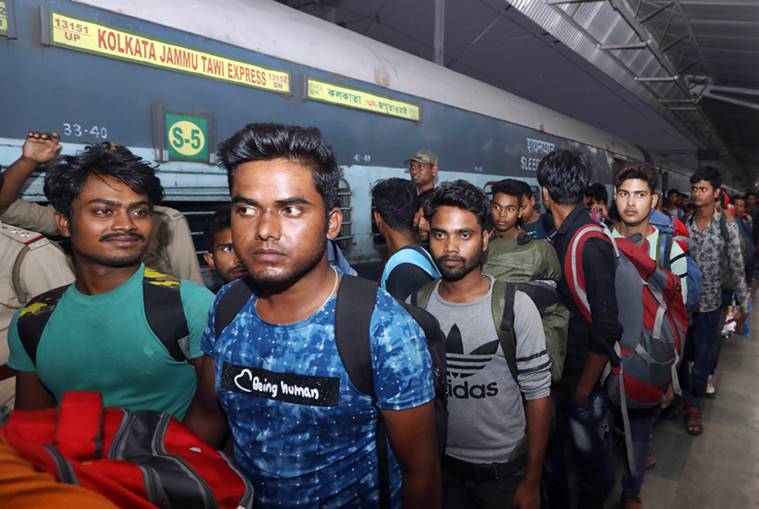 Out of the 133 labourers from the state, a majority —112 — were from South Dinajpur, followed by Birbhum (8), North Dinajpur (6), two each from North 24 Parganas, Jalpaiguri and Coochbehar and one from Malda. Most of them worked in Srinagar and in adjoining areas where they made wooden boxes for packing apples.
"The first time I went to Kashmir was in 2004, 15 years ago. Then Kashmir's environment was very much work-friendly. This time, I went to Kashmir last year. The environment was good. But after the government scrapped Article 370, the situation changed suddenly. We couldn't move freely as we used to do earlier," said 39-year-old Dipankar Biswas, a resident Bangaon in North 24 Parganas. "For the last one month, there was very less work. As a result, the factory owner told me to go home for a few days. I came back and after staying for a few days returned to the Valley. The situation, however, was the same. After five labourers were killed, I heard that the West Bengal government was arranging for our return. Then I also decided to return back," he added.
Also Read | Bengal labourers killed in Valley: At the funeral prayer, friends and strangers from far and near
Twenty-eight-year-old Ibrahim Sheikh, who had left his Nayagram home in Birbhum district to work in Kashmir around a month and a half ago, said that Kulgam killings scared him. "My relatives were very scared. They repeatedly called me to come back. So, I decided to come back. Now, I don't know what I will do. I used to earn around Rs 20,000 a month working in a paddy field in Baramulla. Here we can earn very less. So, we don't know, what to do now," he said.
Many of the labourers who returned on Monday could not even work for a single day. Some of them worked for a week but were not paid. Mohammed Mustafur (36), Nurshed Ali (32), Rabiul Hossain (22) — all from South Dinajpur district — had gone to Kashmir just before the killings took place. "We worked there for 2-3 days but didn't earn anything. We spent a lot of money to go there but earned nothing. We have no money now. In our village, there are no jobs. We don't know what to do," said one of them.
For 19-year-old Farooq Hussain from Kushmandi in South Dinajpur, the experience was same. "We are now basically penniless," he said.
At Kolkata railway station, the labourers were received by Kolkata Mayor and TMC minister Firhad Hakim, who offered them food.
"We are very grateful to the West Bengal government that for arranging our return. The Bengal government officials have told us they will drop us at Assam-Bengal border. After that, we have to go on our own. But our government didn't contact us a single time," said 22-year-old Sahadar Sheikh, who was one the five labourers from Assam who returned with Bengal labourers.
Article source: https://indianexpress.com/article/cities/kolkata/as-bengal-labourers-return-from-kashmir-they-ask-themselves-what-will-we-do-now-6103414/